Stamina Avari Magnetic Rowing Machine Review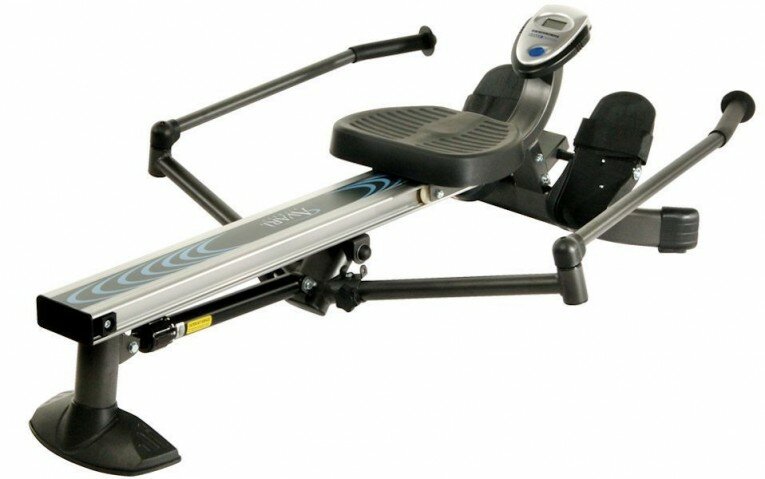 User Rating: Be the first one!
The Stamina Avari Magnetic Rowing Machine targets all major muscle groups using low-impact aerobic exercise. Indoor rowing can increase your metabolism so you can burn calories and fat more efficiently. Get healthy without any monthly fees, scheduling issues, or anything else that goes along with working out at the gym.
This machine has preset exercise programs to maximize your workout without any interruption to your routine. Comfort is key while you exercise, and the Stamina Avari Magnetic does so with its molded seat, padded handle, and an extruded aluminum beam.
Stamina is focused on providing quality and value across the fitness industry since 1987. The company has increased their distribution including internet retailers, sporting goods dealers, mass merchants, catalogs, and television shopping networks.

Specifications and Features
When in use, the Stamina Avari Magnetic is 24.5" x 20" x 81" but folds to 53.5" x 20" x 36." It features an aluminum rowing beam for smooth rowing motion, an InTouch Fitness Monitor with a backlit LCD display with 12 workout programs, foam padded rowing handles, a large molded seat for comfort, large footplates to keep your feet securely in place while rowing, a chest strap heart monitor, and a maximum user weight of 275 lbs.
The monitor also has a pulse recovery function to assess return to resting heart rate and subsequent fitness rating. The 12 workout programs include manual, rolling hills, valley, fat burn, ramp, mountain, interval, target heart rate, and 4 user-defined modes. The monitor assesses time, distance, strokes per minute, pulse, count, and calories burned. Simple buttons allow for easy adjustments mid-workout without having to stop rowing or getting off the rower.
This machine uses a magnetic resistance. This type of resistance is monitor-controlled, where electromagnets operate a braking system inside the flywheel. Magnetic resistance offers an extremely quiet operation and is great for those who can't make a lot of noise, like users living in apartments or with young children. Those who have used air rowing machines note the contrast of the magnetic rowers' equal, smooth pull the entire row cycle.
This rower's frame is made of steel, and is foldable, durable, and sturdy. It comes with wheels for easy transportation and storage. The whole machine weighs in at 75 lbs.
The Avari Magnetic comes with a detailed instruction manual with illustrations and basic tools to complete the assembly. Most users can assemble this rower in under an hour.
This rowing machine has a 3-year warranty on its frame, and a 90-day warranty on its parts.
The Good
This Stamina Avari Magnetic Rowing Machine is built with sturdy aluminum rails which provides a smooth rowing motion. The machine's low center of gravity assists with overall stability. We found that the rowing motion on this machine is realistic.
The monitor is great for a machine of this price range with many built-in fitness programs a bonus chest-strap heart monitor. Because the LCD monitor is backlit, you will be able to read the screen, even in low light.
The Avari Magnetic is easy to assemble, easy to store, and does not have a large footprint. It's great for those who are DIY-adverse or those with small living spaces.
The Bad
Sadly, the Avari Magnetic's seat is not very comfortable and could use additional padding, especially if your workout sessions tend to be on the longer side.
Another feature that could make this rowing machine better is if the monitor could store the user's history and help track progress over a period of time.
The Verdict
The Stamina Avari Magnetic Rower is fairly compact with a simple design that allows it to be assembled and stored easily. Its monitor is fairly advanced for a machine of this price range with pre-programmed exercise programs and an included chest strap. The machine has a realistic and quiet rowing motion, thanks to its magnetic resistance system. However, the seat isn't very comfortable and the monitor is not able to store information and track progress, but these are minor complaints we have about this rower. If you're looking for a quiet, sturdy, and compact rower, then this rowing machine might very well be the one for you.