Sunny Health and Fitness Rowing Machine (SF-RW1205) Review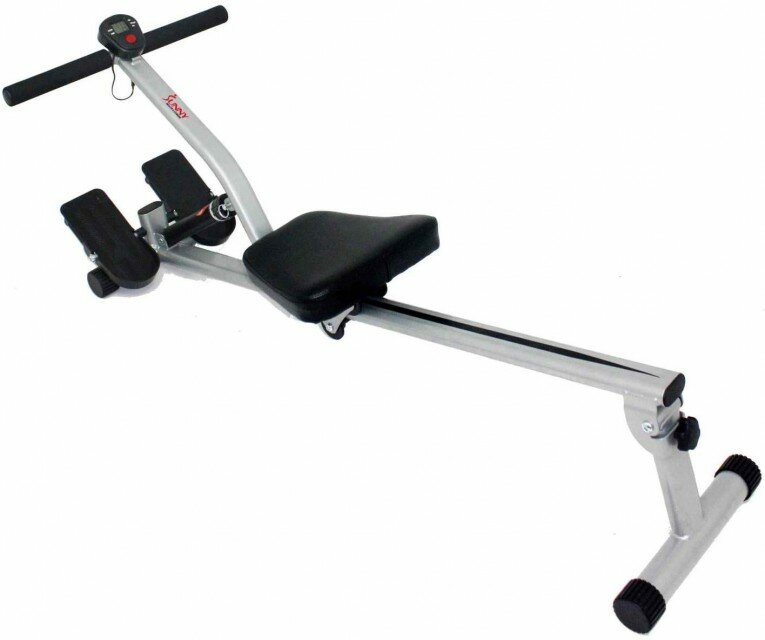 User Rating: Be the first one!
The Sunny Health and Fitness Rowing Machine is great for those looking to add a low impact form of exercise to their home gym that targets all the major muscle groups – upper and lower body, back, core and gluteal muscles. Use of this cardio machine will increase your metabolism and burn calories while challenging and toning your muscles by adjusting the level of resistance. The Sunny Health and Fitness Rowing Machine will appeal greatly to those on a budget.
Sunny Health and Fitness are headquartered in Los Angeles, California, and have been importing and distributing quality health and fitness products for more than 10 years. They import directly from manufacturers in Taiwan and China to cut out the middleman which gives them the ability to offer competitive prices.

Sunny Health and Fitness Rowing Machine (SF-RW1205)
Specifications and Features
This entry-level rowing machine features 12 levels of hydraulic resistance to choose from, a soft and smooth running seat, pivoting foot plates with texturized bottoms for comfort and safety, and an LCD monitor that displays time, count, total count, calories burned, and scan. The machine has a weight limit of 220 lbs. Its dimensions are 53.2L x 20W x 21.5H inches and weighs a total of 24 lbs. The Sunny Health and Fitness Rowing Machine is easy to assemble, light and compact, and is foldable for quick and effortless storage. This rowing machine comes with a one-year warranty on its frame and 90 days on parts.
The Good
The Sunny Health and Fitness Rowing Machine offers a great workout right in your own home. The machine comes practically ready-to-use with very little assembly required. With its light weight, this rowing machine can be stored easily by folding down in mere minutes with the removal of a couple of bolts.
The Sunny Health and Fitness Rowing Machine is ridiculously inexpensive. Even though it is affordable, does not mean it is cheaply made. This rowing machine is constructed well with durable parts in a simple, sturdy and effective design featuring hand grips to prevent blisters for the marathon rower and enhances natural hand positioning, a seat that glides smoothly, and an electronic console that is user-friendly and easy to read. Adjusting the resistance level requires little effort which lets the user continue to use the machine without breaking the flow of the session.
The Bad
The number one thing that could be improved upon with this rowing machine is its console. Other higher-priced rowing machines have the capacity to provide additional information, such as heart rate and distance covered, in their monitors.
However, although the manufacturer claims the seat is comfortable, it could use a bit more cushion. For longer sessions on this rowing machine, padding and a molded seat would do wonders for your bum.
As with other hydraulic rowing machines, the Sunny Health and Fitness Rowing Machine's resistance is non-existent in the first part of the stroke, and the user will not feel it until halfway through the entire stroke. So, if you are looking to row quick and fast strokes, you may find the hydraulic system frustrating.
The Sunny Health and Fitness Rowing Machine is best for users between 5' to 5'9". Those over 6' have a hard time extending their legs fully while having the controls within reach.
While using the rower, you might notice a clicking sound and small impediment in motion, which is a metal-on-metal friction between the pin and the machine's frame. This friction damages the pin, so a replacement may be necessary in the future. The resistance cylinder also gets hot after extended use, which results in a loss of resistance.
The Verdict
The Sunny Health and Fitness Rowing Machine helps you stay in shape without leaving the comforts of your home, for a really good price. Work on your cardio and strengthen your muscles with this light, durable, and well-rounded machine. It is easy to assemble, easy to operate, and easy to store. If you are an advanced or tall rower, then you might want to spend more money on a higher-end rowing machine. Otherwise, this one works for beginner and intermediate rowers who are not looking to spend too much money on home fitness equipment.

Sunny Health and Fitness Rowing Machine (SF-RW1205)
Also read our Stamina InMotion Rower review!