WaterRower Club Rowing Machine Review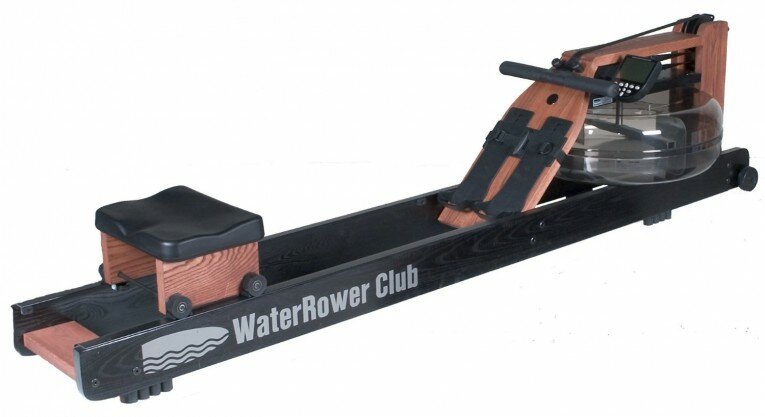 The WaterRower Club Rowing Machine is exquisitely crafted by hand in solid Ash wood, known for its incredible longevity and dimensional stability. This machine is designed for heavy commercial use, such as in gyms, studios, and rehabilitation clinics. The rowing machine's black rails are styled to prevent scuffing, and all parts made of wood have been finished in a lovely rosewood stain which is more resistant to dirt than the Natural model.
All Club Models have been finished with Danish Oil and Urethane for ultimate protection. Because this WaterRower is made of wood, it absorbs sound and vibrations which makes the Club Model quiet and smooth.
WaterRower has been making rowing machine of exceptional quality since 1988 under the direction and design of Yale and US National Team Rower, John Duke. This company is eco-friendly and only sources wood from sustainably managed forests where growth of trees exceeds its removal by 229%. All WaterRower machines are crafted in a factory in Warren, Rhode Island.

Specifications and Features
This WaterRower gets its resistance from a water flywheel or paddle that is suspended in water. When the user pulls on the "oars," it causes the suspended paddle to spin, thereby providing resistance. Level of resistance is dependent on the intensity that the user is using the machine. This type of resistance brings about little noise and the motion is much smoother. Resistance can also be adjusted by adding or subtracting water in the tank which the paddle is suspended in. The more water in the tank, the more resistance you will feel.
The Club Model comes with an S4 multifunctional performance monitor, which has the ability to track workout intensity, stroke rate, heart rate, duration, target fitness zone, and distance. All tracked information can be seen at once on the screen. The monitor is equipped with 9 buttons, 6 shortcut buttons, and 3 navigation buttons. It uses 4 AA batteries and is not backlit. The S4 monitor can be linked to your computer so you can use it with various programs to monitor and analyze your workouts.
The WaterRower Club Model has a comfortably padded seat that is ergonomically designed. The seat has great stability due to its 8 bearings. The handles are covered in soft material and comfortable to grip when using the machine. Footplates with nylon straps are pretty secure and comfortable, although they do not pivot.
This WaterRower can be stored by standing it up on its base. Although this rowing machine is fairly heavy, its clever design allows users to stand it up effortlessly with one hand. Dual caster wheels assist in moving this heavy rower.
The maximum weight capacity for this rower is 1,000 lbs. It can accommodate tall users due to its fairly long seat track. The WaterRower Club Model is 84" x 21" x 22" and weighs in at 117 lbs with a full water tank and 73 lbs with an empty water tank.
Assembly instructions for this rowing machine are detailed and easy to follow. Users report that assembly is fairly easy and should take no more than 30 minutes.
The frame is warrantied for 5 years, while the warranty on parts is for 3 years. Completion of the registration form is required. Without registration, the frame and parts are under a one-year warranty.
The Good
This WaterRower is great because it is solidly built for commercial use, has smooth and realistic rowing motion, is made of Ash wood and finished in Danish oil and urethane, can be assembled easily, has dual caster wheels and flips easily for storage, comes with a comfortable seat and handle, has variable resistance dependent on rowing intensity and level of water in the tank, is fairly quiet, and has the ability to link the monitor to a computer to socially train and upload workout information for analysis.
The Bad
The Club Model's low seat makes getting on and off hard for those with bad knees or a bad back. We noticed that this rower's footplates are too close together. If you have muscular or thick things, your thighs might touch while rowing, which most find uncomfortable. The seal on the water tank have been reported to wear after 3 years of moderate to heavy use.
The Verdict
The WaterRower Club Model is a great machine that combines design, style, function, and craft. Its low seat and close footplates may be a problem for some, so definitely try one out before buying one. The water tank's seal is easily fixed, so there's no reason not to buy the Club Model.

Looking for something more affordable? Read our Sunny Health and Fitness Rowing Machine review!