Stamina Air Rower An Awesome Machine [Actionable Review]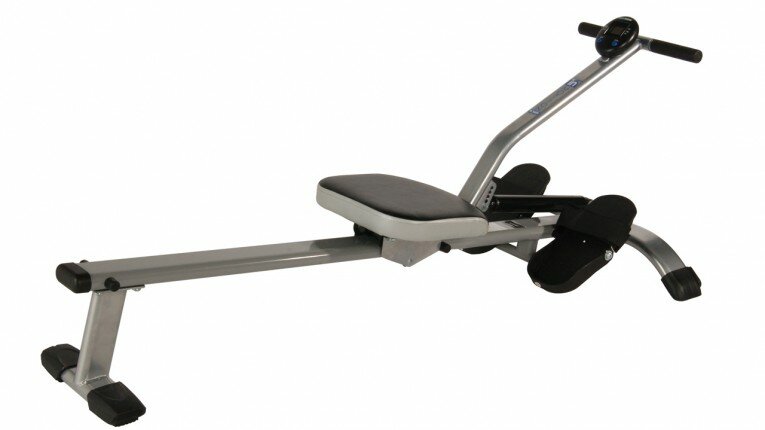 User Rating: Be the first one!
The Stamina Air Rower makes a perfect addition to any home. It has a solid steel construction, a comfortable stitched seat, and foam hand grips. Oversized, pivoting foot plates maintain natural rowing movement while you use the machine. The machine has a computer tracker. The system tracks exercise activity. Including strokes per minute, count, time, and calories burned, with a scan feature.
Stamina Products Inc was founded in 1987. It has been providing customers with cutting edge innovation and affordable, quality equipment. Stamina's mission is to outperform the competition. They have a successful team of partners. They have delivered effective communications, consistency, superior service, and active marketing programs

Stamina InMotion Rower (35-0123)
Specifications and Features of the Stamina Air Rower
This rowing machine features a solid steel construction, five levels of hydraulic resistance, a comfortable seat, pivoting foot plates with adjustable closure, a single-button Multi-function InTouch monitor, and is easy to store.
The Stamina rowing machine is a good asset for home use. It will help you strengthen all your major muscles groups. It will also provide you great cardiovascular exercise. The Stamina InMotion Rower is 56.5" x 23.5" x 19" and weighs 27 lbs with a 250 lb weight limit. The assembly of the machine will take you exactly 30 minutes.
Stamina warrants their products free from defects in materials and workmanship at the time of the original purchase from an authorized retailer. If the rower becomes defective, you can contact the company via phone or by writing to the customer service address listed on their website. You will also get a 90-day warranty for parts. The frame, however, has a one-year warranty from the manufacturer.
The Good
This rower is quality and performance rolled into one, with a low price tag. The manufacturing is keeping its mision of great products. This machine supports heavy use and it is lightweight. You will also be able to store it easy because of the light weight.
Extra-large footplates can accommodate many different shoe sizes. The adjustable closure straps provide a firm grip so that users who are vigorously training on the machine cannot slip off the footplates easily. Foam padding protects the bar so blisters are hard to come by even after a long workout.
The Stamina Air Rower is a hydraulic with a single-piston system (unlike most hydraulic rowers with two pistons) which makes for a quiet and smooth rowing experience. A one-piston system makes the rower lighter, costs less, and has one centered rowing arm. This machine has two arms two pistons. The arms are control by the pistons so this makes it diffcult to kepp the same level of resistance on both arms. As a result, one piston may wear out faster than the other. With single-piston systems, the user does not have to worry exactly this future maintenance issue.
Assembly is quite simple by attaching the footplates, monitor, and othe bar. The main frame comes pre-assembled. The manual details the machine parts with illustrations. Users can master putting the machine's part together with ease.
The Bad
One aspect that the Stamina Air Rower can improve is the screen display. The font in the monitor is too dark and small. This makes it hard for the user to ready the screen. The data monitor also does not have present workout programs.
Stability is compromised due to the machine's lack of weight. We also noted that changing the resistance is not so easy, impeding on the rower's smooth session.
Most rowers offer at least twelve levels of resistance, while this rowing machine only provides five.
The hydraulic cylinder responsible for the resistance is also prone to overheating. Please be aware of the high temperature of the pistons. This will avoid getting burn.
Although the handlebars support a full range of motion, it does not mimic the feel of rowing outdoors.
lastlly, Those with bad knees will find it difficult to get on and off the Stamina InMotion Rower's low seat.
The Verdict

Exercise machines can set you back a pretty penny. The Stamina InMontion Rower is very good for a small space.
The price is affordable; It will not break you bank either.
The durable construction means your hard-earned money is spent well. This rowing machine is great for beginner rowers, is smooth and quiet, includes a monitor, and assembles easily.
If used regularly, this machine's user will lose weight and increase their endurance.
Avanced rowers will need more than this rowing machine's five levels of hydraulic resistance.
It is too small for users above 6' tall, and is too low to the ground for those with bad knees.
The cilyinder's temperature may go up while rowing. You should be careful because it may burn your skin.

Stamina InMotion Rower (35-0123)
Also, read our review on the Stamina Conversion II Recumbent Bike/Rower if you are looking for something that offers more features!
For a other great rowing machines please see the following reviews: Water Rowers and Sunny Health Rowers and the top seller Concept 2